It is no secret that the global mobile app market is booming in 2021. The Global Mobile Apps Market 2020-2024 report predicts that the global mobile apps market size is expected to grow by USD 497.09 billion during 2020-2024. This projected year-over-year growth of the global mobile app market signals to app developers that this may be prime time to enter the market.
However, financial success in the app market is not an easy feat. With the Apple App Store currently offering nearly 2 million apps and the Google Play Store offering nearly 3 million apps, consumers have a plethora of choice and the market has become saturated. Research from Gartner Inc reported that less than 0.01% apps  are considered a financial success. In this post, we will dive into why it is difficult to profit in the app store and explain how to increase to the likelihood that your will be app profitable.
Why Are Apps Not Profiting?
Consumer Selectivity: App Store consumers are very selective with their app downloads. According to comScore, only about one third of smartphone users download any apps in an average month; the bulk of those users download only 1-3 apps. This indicates that consumers do not want to download any additional apps unless they provide them with utility.
App Discovery Challenges: Apple's app store has sub-par discoverability features; only a handful of popular apps are selected to be featured in its app store. This causes frustrated users to ditch the sub-par search functionalities and resort to downloading from "top 25" lists instead. According to Nielsen, 70% of total US smartphone app usage is accounted for by the top 200 apps in the marketplace. These are the apps that are reaping a majority of the profit in the global app market.  The difficulty of being featured in the App Store presents a major barrier for new apps looking to turn a profit.
Lack of a Target Audience: A shocking amount of apps are developed with no target audience in mind.  49% of  app developers reported that they developed apps based solely on their own needs. This lack of market research led these developers generate low revenues. Out of the developers that created apps to make money, 67% were not making enough to sustain them or their business.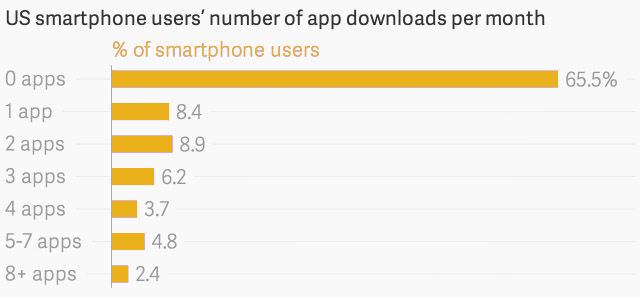 How Can Apps Turn a Profit? – Advertising Spend is a Must
It is critical for apps to spend significant resources on marketing to ensure a successful launch. By investing in marketing early on, app developers are more likely to rank as a top-downloaded app on launch day and subsequently spur organic downloads from interested users. Successful companies now seeing the immense importance of marketing.  Over a third of companies dedicate 31-50% of their total app development budget to marketing; 21% dedicate 51-70% of their budget to marketing. This heavy investment is critical for an apps success due to its ability to build audience awareness to grow in popularity. After all, an app cannot become popular and profitable if consumers do not know it exists!
Now, let's take a look at the success of app advertising through the lens of mobile gaming app downloads in 2020. App downloads for mobile games increased by 45% in 2020, a 13% increase from the previous year. A report from AppsFlyer explains that installs attributed to advertisements for apps, known "non-organic installs," jumped 69% this year as game developers ramped up their marketing efforts to stand out. In contrast, organic installs from people discovering apps on their own only grew 33%. This significant difference indicates that app advertising is an important driver of installs for mobile games.
Our Solution
AdGate Media Offer Wall is a premier platform that specializes in monetizing and acquiring highly engaged users to apps. Our user-friendly platform can help you attain more installs, engagements, or sales.