This past year, global users have spent more time using mobile apps than ever.  According to App Annie's 2020 "Mobile App Evolution" report, users spend 3.1 hours a day using mobile apps. As a result, the number of mobile app downloads has risen from 204 billion in 2019 to an expected 258 billion in 2022. The immense growth in app downloads attracted millions of developers to mobile app stores, resulting in thousands of new apps added to app stores every day.
The rise of new mobile apps has made the app market hyper-competitive. In order to gain the competitive advantage in user acquisition, app companies must increase their digital advertising budget. App companies are doing just that. AppsFlyer's annual Global App Install Ad Spend projection expects continued robust growth in spend from $57.8 billion in 2019 to $118.4 billion in 2022.
As app companies are increasing their install ad spend, they must ensure their money is being put to good use. AdGate Media's offer wall is an excellent platform for advertisers to both monetize and acquire highly engaged users to apps.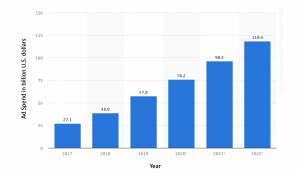 What is AdGate Media's Offer Wall?
AdGate Media's offer wall is an advertising unit that provides iOS and Android users with the opportunity to earn virtual currency rewards through engaging with our offers. We have a network of reputable publishers with dedicated users that plug in our virtual currency offer wall. This allows users to find and download new apps organically and attracts users who would not typically download the app by providing them with rewards.
The Benefits of Advertising with AdGate Media

User acquisition: Our offer wall attracts millions of users from across the globe every month. Our wall is a great way to gain exposure from a variety of users of different demographics
Optimized Ad Spend: Our offer wall allows advertisers to optimize their ad spend. Advertisers only pay AdGate after a user downloads and engages with their app. There are no additional fees when it comes to advertising with us.
Targeting: Target by geography, OS version, type of device, and dozens of other dimensions. We give you flexibility in how you want to run your campaign.