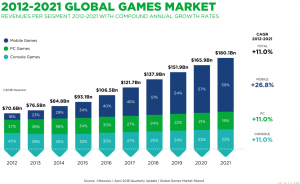 The Rise of Mobile Media
Mobile media has become something that people across the globe can't seem to live without. In 2014, the daily time users spent using their phones clocked in at 152 minutes. In 2021, users are projected to spend 234 minutes on their phones. This significant growth in mobile use is leading to a surge in mobile gaming. This post will review the rise of the mobile gaming industry.
Mobile Gaming Growth in 2020
According to a report from App Annie and IDC, mobile gaming achieved a record-breaking high in 2020. Last year, the global mobile gaming market grew to $68.5 billion. According to market experts, the global mobile gaming market will hit $76.7 billion in 2021. This represents a 12% increase in market growth.  Some of the reasons behind this accelerated growth are as follows:
The unexpected Coronavirus pandemic
The coronavirus pandemic is an unprecedented event that has shaken the lives of people across the globe. As stay at home orders and social distance precautions are put in place, people started to seek stay-at-home entertainment to pass the time. While mobile gaming downloads increased steadily by 6% from 2018 to 2019, the number of downloads in the US rose to 25% in March 2020 and 30% in February 2020 in China.
The Affordability of Mobile Gaming
There is a massive variety of free to download and play games on mobile platforms. The fact that this gaming is free makes it the ideal market for consumers. Popular titles such as Fortnite and Call of Duty are free to download on Android devices. On the other hand, console and PC play for popular titles comes at an approximate cost of US $60. Thus, free-access to games is more alluring to the global market.
The Increased Accessibility to Mobile Gaming
Growth in mobile gaming has skyrocketed across the globe. Of the 2.7 billion total gamers projected to play in 2020, 2.6 billion will play on mobile devices. The contributing factors to this growth are (1) the closing of many internet cafes during the pandemic and (2) the increase of accessibility to mobile devices rising across the globe. In 2020, the number of global smartphone users is projected to total 3.5 billion. This marks a  9.3% increase from 2019. Of the 7.7 billion people globally, the smartphone penetration rate is currently 45.4%. This number is projected to rise as developing economies advance in technology. According to a GSMA report, smartphone penetration will reach 80% by 2025. The countries contributing to this rise include India, Indonesia, and Pakistan. The mass increase of smart phone accessibility across the globe will undoubtably lead to the continuation of mobile gaming growth.